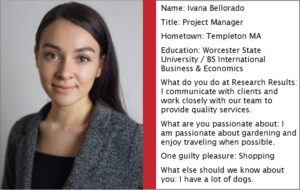 Research Results is happy to announce the addition of Ivana Bellorado to the Project Management team. Originally from Templeton, Massachusetts, Ivana is a graduate from Worcester State University and has earned a Bachelor's degree in International Business and Economics. 
In her free time, Ivana enjoys shopping and is most passionate about gardening, travel, and her love for dogs.
Director of Client Services, Stephen Oldfield commented, "We were looking for a candidate that had a lot of drive, fit our culture, and had industry experience and Ivana fit that role. After meeting with her, we knew she would be a great fit for our company and our clients. We are excited to have her on board and to watch her flourish in her new role."
Research Results is delighted to have Ivana as a member of its team. She will be a welcomed addition to the project management role.