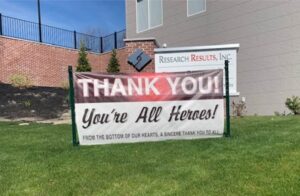 During these troubling times, the Research Results team would like to thank all those on the front lines, including but not limited to–First Responders, Doctors, Nurses, Pharmacists, Delivery and Sanitary workers, Restaurant workers, Letter Carriers, and all those in the Supply chain.
We also thank those who have worked remotely during the COVID 19 pandemic, including teachers and parents who have dedicated their time to continue to provide an essential learning environment for children and teens.
We are surely missing many more who have sacrificed personal health and safety to better our community and serve others.
Thank you to everyone from the bottom of our hearts.